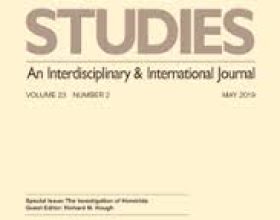 Follow journal on Twitter
Purpose and Aspiration of the Journal
Homicide is among the most frequently addressed topics in the study of crime. Yet, no comprehensive forum existed through which researchers and practitioners from various disciplines could share their knowledge. Consequently keeping abreast of contemporary developments was difficult.
Homicide Studies: An Interdisciplinary & International Journal  is a journal providing a central forum for the diverse literature on homicide. The premier issue of this quarterly, peer-reviewed academic journal appeared in February 1997. Published by Sage Publications and sponsored by the Homicide Research Working Group, Homicide Studies is a high-quality, multidisciplinary publication devoted to the dissemination of information concerning research, public policy, and applied knowledge pertinent to the study of homicide.
Comprehensive Focus
Homicide Studies is essential reading for academic researchers, people involved in law and practice and those involved in the development and evaluation of public policy. The journal publishes a wide range of current scholarship relating to homicide, including such topics as:
The effects of capital punishment in deterring homicides
Projected psychological profiles of serial killers and the match to actual offenders
Feminist theories of homicide
Cross-cultural and/or international comparisons of homicide research findings
Analyses of trends in homicide offending and victimization
The correlation between child abuse and homicidal tendencies
Evaluations of support groups for family members of homicide victims
Assessment of brain injury through child abuse among convicted homicide offenders
Determining predictors of lethal violence among couples with histories of domestic violence
Differentiating the dynamics of homicide and non-lethal assaults
Investigative techniques that enhance probabilities of offender identification
Methodological problems posed by decreasing homicide clearance rates
Interdisciplinary Scope
Because the study of and work in homicide crosses a wide range of fields, there was a very compelling and immediate need to establish a comprehensive focus through which to report on and explore the issues. Bridging the gap between academic and practitioner, as well as between different disciplines, was and remains a core goal of Homicide Studies. Only through the sharing of knowledge and expertise are we able to better understand homicide. Through achieving this goal Homicide Studies presents you with a diversity of perspectives, including:
criminology
psychology
forensics
social work
nursing
criminal justice
public health
medicine
geography
political science
sociology
public policy
anthropology
law
history
Contents of Issues
A complete listing of all issues is available through the Sage website, which can be found here.
Special Issues of Homicide Studies
Homicide Studies has featured a number special issues that are currently available.
The first special issue commemorates the 40th anniversary of Marvin Wolfgang's Patterns of Criminal Homicide (Homicide Studies, Volume 2, Number 3, August 1998). Rick Rosenfeld served as guest editor of this issue.
The second special issue focuses on Femicide (Homicide Studies, Volume 2, Number 4, November 1998). Jacquelyn Campbell and Carol Runyan served as guest editors for this special issue.
The third special issue highlights Violent Serial Offending (Homicide Studies, Volume 4, Number 3, August 2000). Thomas A. Petee and John Jarvis were guest editors of this issue.
The fourth special issue addresses Homicide Research in Europe (Homicide Studies, Volume 5, Number 4, November 2001). C. Gabrielle Salfati was guest editor for this special issue.
Two special issues addressed the Regional Subculture of Violence (Homicide Studies, Volume 7, Number 4, November 2003 and Homicide Studies, Volume 8, Number 1, February 2004). Karen F. Parker was guest editor for these special issues.
A recent special issue focused on Missing Data (Homicide Studies, Volume 8, Number 3, August 2004). Marc Reidel and Wendi Regoeczi were the guest editors for this special issue.
More recent special issues include:
Homicide in an International Context (February 2008, Volume 12, Issue 1). Guest Editor: William Pridemore
Linking Data Sources to Enhance Homicide Research (August 2008, Volume 12, Issue 3). Guest Editor: Brian Wierseman
Immigration (August 2009, Volume 13, Issue 3). Guest Editor: Ramiro Martinez, Jr.
Structural Covariates of Homicide Rates: A Return to a Classic (August 2010, Volume 14, Issue 3). Guest Editors: Patricia McCall & Kenneth Land
Theories of Homicide (November 2011, Volume 15, Issue 4). Guest Editor: Jay Corzine
Special Issue in Honor of Margo Wilson (November 2012, Volume 16, Issue 4). Guest Editors: Carolyn Rebecca Block and Christine E. Rasche
Elderly Homicide (May 2013, Volume 17, Issue 2). Guest Editor: Marc Riedel
Fatality and Death Reviews (November 2013, Volume 17, Issue 4). Guest Editor: Mayra Dawson
Mass Murder (February 2014, Volume 18, Issue 1). Guest Editor: Jack Levin
About the Editor
Jesenia M. Pizarro, Ph.D
. is an Associate Professor in the School of Criminology and Criminal Justice at Arizona State University. Her research focuses on the importance of understanding the proximal event and situational factors that result in violence, and the effect the 
homicide
 situational context has on the social reaction of practitioners and other social actors. Dr. Pizarro is currently a member of the Firearm Safety Among Children and Teens Consortium (FACTS), and the 
Homicide
 Research Working Group (HRWG). She has worked with various police departments and agencies throughout the country in joint efforts to curb violence (i.e., Detroit, MI; Flint, MI; and Newark, NJ), and has managed federally funded grants that focus on urban violence and intimate partner 
homicide
 prevention, awarded by the Bureau of Justice Assistance, Office of Juvenile Justice and Delinquency Prevention, National Institute of Health, and the Centers for Disease Control and Prevention in various capacities and roles. Her work has been published in the 
American Journal of Public Health
, 
Justice Quarterly
, 
Criminal Justice and Behavior
, 
Journal of Interpersonal Violence
, and 
Homicide
Studies
.  
Submission Guidelines
Submissions should be empirically based, using quantitative or qualitative methods. Theoretical papers, research summaries, and public policy reviews are also welcomed. Manuscripts should not exceed 30 typed, double-spaced pages including references, tables, and figures. References must conform to the Publication Manual of the American Psychological Association (5th edition). All artwork must be camera-ready. Authors should include their name, affiliation, mailing address, telephone number, and if available, e-mail address. Each manuscript should include an abstract and biographical statement.
Submission of a manuscript implies commitment to publish in the journal. Authors submitting manuscripts to the journal should not simultaneously submit them to another journal, nor should manuscripts have been published elsewhere in substantially similar form or with substantially similar content. Authors in doubt about what constitutes prior publication should consult the editor.
Authors who wish to submit articles to Homicide Studies can now do so electronically using the following link:
http://mc.manuscriptcentral.com/hs
. Please note that submissions are no longer accepted by e-mail.
Subscription Information
Membership in the Homicide Research Working Group includes a subscription to Homicide Studies.
Individual and institutional subscriptions to Homicide Studies without joining the HRWG are available. Subscription price varies based on whether you are looking for an individual or sinstitutional subscription. Please see the ordering instructions on the SAGE Publications Web site.
This journal is abstracted or indexed in:
Abstracts in Social Gerontology, Current Contents: Social & Behavioral Sciences
Current Literature on Aging
Criminal Justice Abstracts
Family Violence & Sexual Assault Bulletin
Health & Safety Sciences Abstracts
IBZ (International Bibliography of Periodical Literature on the Humanities and Social Sciences)
NCJRS Abstracts Database
Peace Research Abstracts Journal
PsycINFO
Psychological Abstracts
PsycLIT
Risk Abstracts
Safety Science & Risk Abstracts
Sage Public Administration Abstracts
Sage Urban Studies Abstracts
Science Navigator Scopus
Social Sciences Citation Index (Web of Science)
Social Services Abstracts
Sociological Abstracts
Standard Periodical Directory (SPD)
Violence and Abuse Abstracts
It also is available on microfilm from University Microfilms, Ann Arbor, Michigan.
In North America, South America, and Canada:
Sage Publications
2455 Teller Road
Thousand Oaks, CA 91320, U.S.A.
Telephone: (800) 818-SAGE(7243) and (805) 499-9774
Fax: (805) 499-0871
In the U.K., Europe, the Middle East, and Africa:
Sage Publications, Ltd.
1 Oliver's Yard
55 City Road
London EC1Y 1SP, England
Telephone: +44(0) 20 7324-8500
Fax: +44(0) 20 7324-8600
In India and South Asia:
Sage Publications India Private Ltd.
B-42 Panchsheel Enclave, Post Box 4109
New Delhi 110 017, India
Telephone: (91-11) 2649-1290
Fax: (91-11) 2649-1295
As with all Sage journals, Homicide Studies is printed on acid-free paper.
Back Issues:
Information about availability and prices of back issues may be obtained from
Sage Publications
.